Atlas climatique du grand-duché de Luxembourg
Climate Normals 1971-2000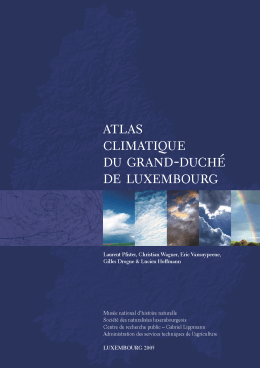 Pfister L, Wagner C, Vansuypeene E, Drogue G, Hoffmann L (2005) Atlas climatique du grand-duché de Luxembourg. Musée national d'histoire naturelle, Société des naturalistes luxembourgeois, Centre de recherche public Gabriel Lippmann, Administration des services techniques de l'agriculture. Luxembourg. ISBN 2-919877-24-0.
The atlas is on sale for 15 € at the shop of the National Museum of Natural History, 25 rue Münster, L-2160 Luxembourg.
Download Preface and impressum [PDF 150 kB].